Residential Asphalt Services
Residential Asphalt Services
Before your visitors even reach your front door, they have been welcomed to your house via your driveway. It's a guest's first impression of your home. Therefore you want it to look good and welcoming, whilst also being built to last.
When it comes to a new bitumen driveway, we have the knowledge and experience to get the job done right. We pride ourselves on constructing quality work with a focus on attention to detail. We offer a variety of driveway solutions.
Whether you require a bitumen driveway for residential or rural purposes, for business and commercial needs, or for council compliance, we will guide you through the options to find the solution to suit your needs. As Gold Coast leading asphalt specialists Colossal Asphalt provide residential asphalt services at highly competitive and affordable rates.
Our residential services include;
Asphalt Driveways
Asphalt Paths
Asphalt Paving
Asphalt Resurfacing
If you are looking to improve or repair your existing driveway into a new smooth asphalt driveway then talk to us! We will professionally construct a new driveway that can add value to your property.
Other services include;
Driveways installed and repaired
Wheelchair ramps
Car park repairs, including re-sheeting
Bitumen cutting
Prep work
Base work
Insurance work
Colossal Asphalt will provide you with exceptional workmanship at a surprisingly affordable price. Contact us today!
Hear What Our Customers Have To Say!
Samantha Hastings
Customer
I recently had my driveway redone by Colossal Asphalt. The works carried out were swift and the team did a fantastic job. All of my requests and requirements were dealt with, nothing was too much of an ask. Highly recommended Hamish and his team! Thanks again guys 🙂
Hamish and his team did an outstanding job of our driveway, we couldn't be more pleased with the result, it is excellent. I will certainly be recommending Colossal Asphalt.
Our driveway & footpath were completed as agreed, on time & by people who knew what they were doing. Great result. Care taken for the details. We recommend Hamish & his crew with top marks. A pleasure to do business 🤙😊
I had the guys from colossal allies lay my driveway. They beyond exceeded my expectations. Professional, fair price and great communication. Thank you Hamish and team.
Get In Contact With Our Asphalt Specialists
Residential Asphalt Services
Find out how our Asphalt Specialists can assist you with your residential asphalt job. View our Facebook page below to see our most recent projects and how they've turned out, find inspiration or understand why more South East Queensland locals choose Colossal Asphalt.
Reasons Why South East Queensland Locals Choose Us!
Family Owned and Operated
25+ Year Experience
No Job Is Too Big Or Too Small
We Do Everything Asphalt
Obligation Free Quotes & Advice
Extended Operating Hours (6am-8pm Monday-Saturday)
100% Quality Guaranteed
Honest & Friendly Customer Service
We Get The Job Done Faster!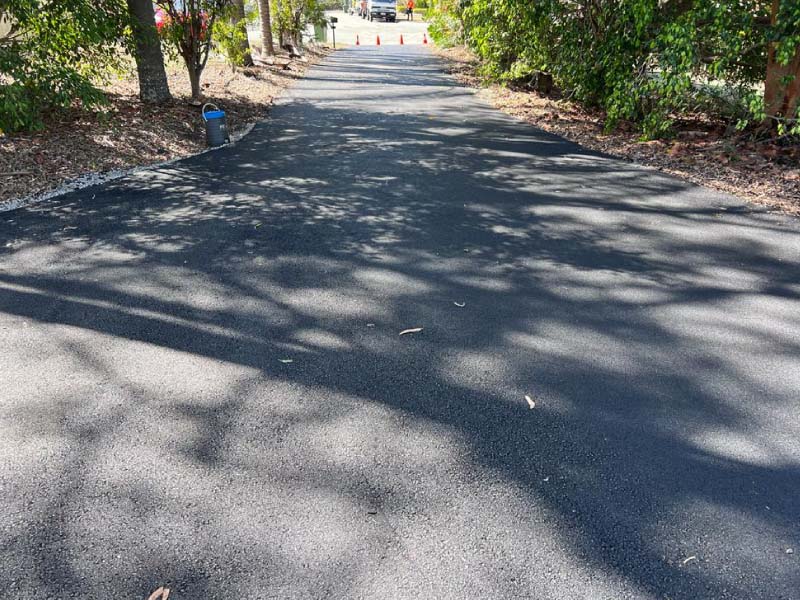 View Our Recent Projects!
View Our Most Recent Work As Well As Our First Jobs! Find Out Why More Locals Choose Colossal Asphalt!
3 Quick and Easy Steps To Complete Your Project
Asphalt service brought to you by Colossal Asphalt. Bringing bitumen with professionalism at realistic prices and still having a quality product. With 25+ years working and perfecting our skills in the asphalt and bitumen industry – Get a quote today.
1. Request Your Free Quote
3. Our Professional Team Complete Your Project
Frequently Asked Questions
Asphalt is a sticky, black liquid or semi solid form of petroleum. It can be found naturally or it can be found as in a refined form – this refined form is called pitch.
If installed properly, an asphalt pavement can last up to 20 years or more before needing repairs or repaving. 
Asphalt is a relatively cost effective material and if your property needs repaving over a large area, it can be cheaper than other options like concrete or tiling.